Introducing Boating Suite!
Boating Suite: Complete Boating Logbook boasts a modern design combined with an intuitive and easy to use workflow. Here are some of the features:
Intuitive user interface
Supports an unlimited number of boats, engines, batteries, generators and fuel tanks
Log Book, Fuel, Expense and Maintenance Logs dynamically display the correct number of Engine, Battery, Generator and Fuel Tank fields based on the vessel selected for the entry
Improved, and nearly bullet-proof, backup and restore
New Quick Add menu from the Home screen. Now you can add an entry without going into the module
More accurate reporting
Landscape Mode
New Getting Started screen to help get your boat set up
BOATING SUITE is a professional and full-featured app for iOS that is designed to help you manage all aspects of your boating life. But it's not just a boating app. It's the first and only app designed by boating enthusiasts, for boating enthusiasts.
Now you have a single app to log your trips plus track your fuel, maintenance, expenses and manage your boat(s). It will even help you remember stuff with its handy To-Do and Shopping Lists!
BOATING SUITE is SEVEN apps-in-one: It's comprised of SEVEN modules plus several customizable reports. Each module performs a specific function but all modules are integrated to give you a complete picture of your boating activities and expenses.
You no longer need to write things down on scraps of paper and transfer them to log books or spreadsheets. Finally, everything in one place and at your fingertips.
Boating Suite is perfect for the casual boater or seasoned Captain.

---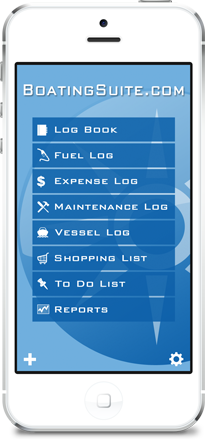 Boating Suite consists of the following modules:
Log Book: Allows you to maintain detailed records of every trip. From engine hours to air temp, from crew members to weather conditions…this app is comprehensive.
Fuel Log: Keep track of all fuel purchases and track your fuel economy.
Expense Log: Maintain detailed records of all boating related expenses…whether it's engine oil or life jackets.
Maintenance Log: Detailed maintenance history at your fingertips.
Vessel Log: Keep track of every detail — serial numbers, registration, insurance, fluids, batteries, etc.
Shopping List: Enter the stuff you need when it runs out or when it pops in your head. Now you won't forget when you're at the marine store.
To Do List: Owning a boat means you have a perpetual to-do list…this module will keep it together.
Reports: Get detailed usage and expense reports instantly. Select the date range and information that you want to see. It's that simple.
•
•
•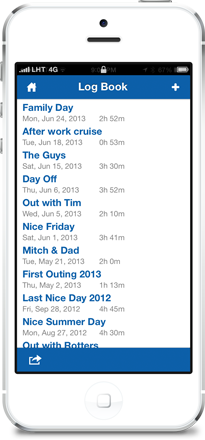 Log Book
The Log Book allows you to maintain a detailed cruising log for every trip. Ever wonder how many trips you actually take each season? How long is the average outing?
With useful reports that are easy to read and fully customizable you will have this information and more. You will also know things like the average temperature or the temp on a particular outing; sunny or cloudy, short trip or long trip, lots of cruising or hanging on the hook, water temp, etc…tons of information at your fingertips. Plus, you can attach a photo to each Log Book entry.
With the Log Book you can track the following:
• Trip Date
• Departing Port
• Destination
• Trip Duration
• GPS Coordinates
• Engine & Generator Hours Used
• Distance Traveled
• Air Temp
• Water Temp
• Weather Conditions
• Crew
• Trip Description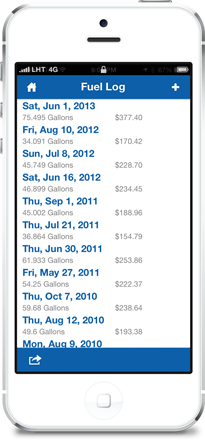 Fuel Log
How much do you really spend on fuel each season? Do you know your fuel economy? Are you suddenly burning more fuel than usual? Use the fuel reports to look for trends that could signal a problem. The Fuel Log tracks all of your fuel purchases and calculates your fuel economy. In addition, your fuel purchases will be included in the Total Cost of Ownership (TCO) calculation.
With the Fuel Log you can track the following:
• Purchase Date
• Engine Hours at Fill-up
• GPH and HPG
• Purchase Amount
• Tip Amount (optional)
• Gallons Purchased
• Octane/Fuel Type (87, 89, 90+ or Diesel)
• Vendor
• Notes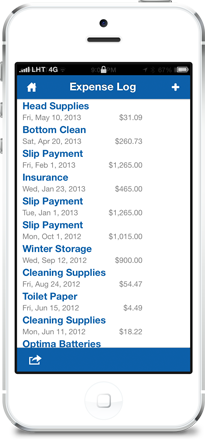 Expense Log
The Expense Log is for tracking all of your boating-related expenses (maintenance expenses are tracked in the Maintenance Log). Things such as fenders, dock lines, supplies and anything else you sink into your boat. The Expense Log will show you where you are spending your money and what you're spending it on. Combined with the Fuel and Maintenance Logs, you will get a complete picture of your total cost of ownership.
With the Expense Log you can track the following and assign them to a specific boat:
• Purchase Date
• Purchase Amount
• Vendor
• Short Description
• Category
• Engine Hours
• Option to include in the TCO report
• Notes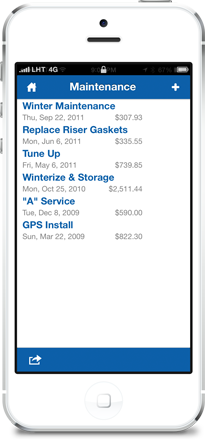 Maintenance Log
The Maintenance Log will help you keep track of all maintenance and repair items that are performed on your boat whether you do it or someone else does it. Sure, we all save our receipts but who wants to sift through papers just to find out when the last oil change was performed. The Maintenance Log puts this information at your fingertips. And when combined with the Fuel and Expense Logs, you will get a complete picture of your total cost of ownership.
With the Maintenance Log you can track the following:
• Purchase Date
• Purchase Amount
• Vendor
• Short Description
• Category
• Engine Hours
• Notes
•
•
•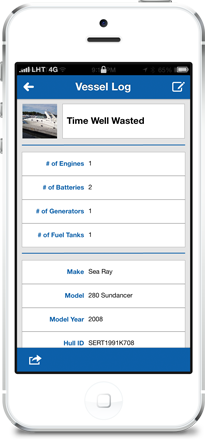 Vessel Log
The Vessel Log lets you consolidate all of your boat's information in one place.
We know that every boat is different and that every user has different needs. We overhauled the Vessel Log to accomodate the many configurations that our users have. When you are entering information in the other modules, the app will dynamically display the correct number of engine, battery, generator and fuel tank fields.
We have preset fields for things like Make, Model, Serial #'s, Length, Beam, Draft, etc. You can also track registration and insurance information, towing contacts, engine details and more. We also added 2 user-defined areas that will let you enter the information that is important to you.
Have more than one boat? No problem, the Vessel Log supports multiple vessels and each entry you create in the app will be tailored to whichever boat you select.
•
•
•
•
•
•
•
•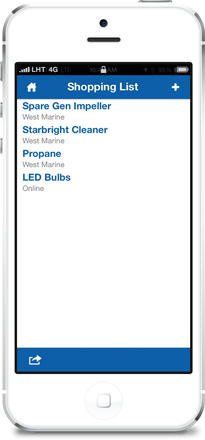 Shopping List
This module is simple but useful. You leave work, stop at the marine store, get all of your supplies and head to the boat. Just then you realize that you forgot to buy propane tanks for the portable grill. You remembered that the cover had a broken snap but you forgot to buy the snap. You got the wax but forgot those little clips to hold that one thing…you know, the thingamabob.
From now on, you just add these things to your Shopping List when they're on your mind. No more sticky notes in your pocket, no more forgetting.
•
•
•
•
•
•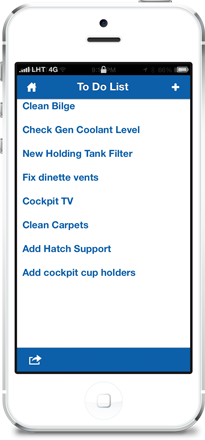 To Do List
Another simple, yet useful module. What does it do? It helps you remember stuff. You're out with some friends and you notice the seat has a little squeak…add it to the To Do List and enjoy the day. Daydreaming at work about your boat and the things that need to get done? Add them to the To Do List. Is your spouse wondering why that snap on the carpet still hasn't been fixed? Add it to the To Do List and you won't forget.
•
•
•
•
•
•
•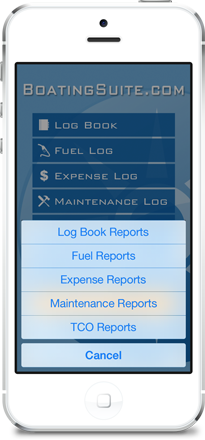 Reports
Boating Suite includes comprehensive reports for fuel, maintenance, expenses and total cost of ownership. Plus, our Log Book reports will give you a complete picture of all your outings. All reports have convenient presets but you have the flexibility to customize and specify your own time frame.